Meet Paul Preziotti, CPA, Partner at Johnson Lambert and GWSCPA Board Member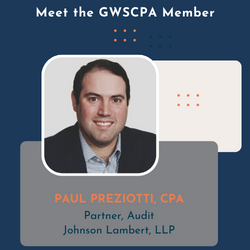 How were you inspired to pursue a career in Accounting?

I took an accounting class in high school and felt it was something I had an aptitude for. I also enjoyed the problem solving aspect of accounting. I took more classes related to it in college and that inspired me to continue the journey.
What is something that has been unexpected about your career path or what is a common misconception about accounting?

A common misconception about accounting is that it is all about numbers or math. That is far from the truth. Like any business, a lot of the accounting business is about relationships.
Considering your particular journey with GWSCPA, what would you tell a young or aspiring CPA about the value of becoming a member?

The GWSCPA played a significant role in developing my network in the Greater Washington area. It helped me to cement relationships that have played a big role in my professional career. And it also provided me with opportunities that gave me valuable experience and allowed me to build skills I may not have otherwise developed.
Interested in being spotlighted? Contact Meghan Jenkins for more information.