The Scholarship Fund of the Greater Washington Society of CPAs was established in 1963. Since its inception, the fund has awarded over $500,000 to accounting students attending institutions of higher education located in Washington, DC. Please consider making a tax deductible contribution to the fund this year when you submit your membership renewal... or today. Checks may be made payable to GWSCPA Educational Fund-Scholarships mailed to 1015 15th Street, NW, Suite 600, Washington, DC 20005.
Eligible Universities:
American University
Bowie State University
Catholic University
Gallaudet University
George Mason University
George Washington University
Georgetown University
Howard University
Marymount University
Trinity Washington University
University of the District of Columbia
University of Maryland
University of Maryland Global Campus
2023 Scholarship Awards Program
Students attending the universities listed here on a full time basis, who meet all other criteria, are eligible to apply for an award from the GWSCPA Scholarship Fund.
For this year, the Scholarship Fund will make several awards ranging from $3,000 for our undergraduate and graduate student awards to $5,000 each for our two special named awards-the Past President's Award and the Sue Marcum Memorial Award. To be eligible for the Past Presidents Award, students must demonstrate qualities and activities which will help them be a future leader within the profession, and for the Sue Marcum Memorial Award, students must demonstrate their commitment to community and volunteer service.
Students who meet the application criteria are invited to apply for a scholarship award from the Scholarship Fund. Students must complete the online application by the deadline--April 23, 2023. In addition to financial awards, winners receive a one year membership in the Greater Washington Society of CPAs and are recognized at our Annual Membership Meeting in June. You can review scholarship requirements here. Should you have questions, please email Ashley Fearn: afearn@gwscpa.org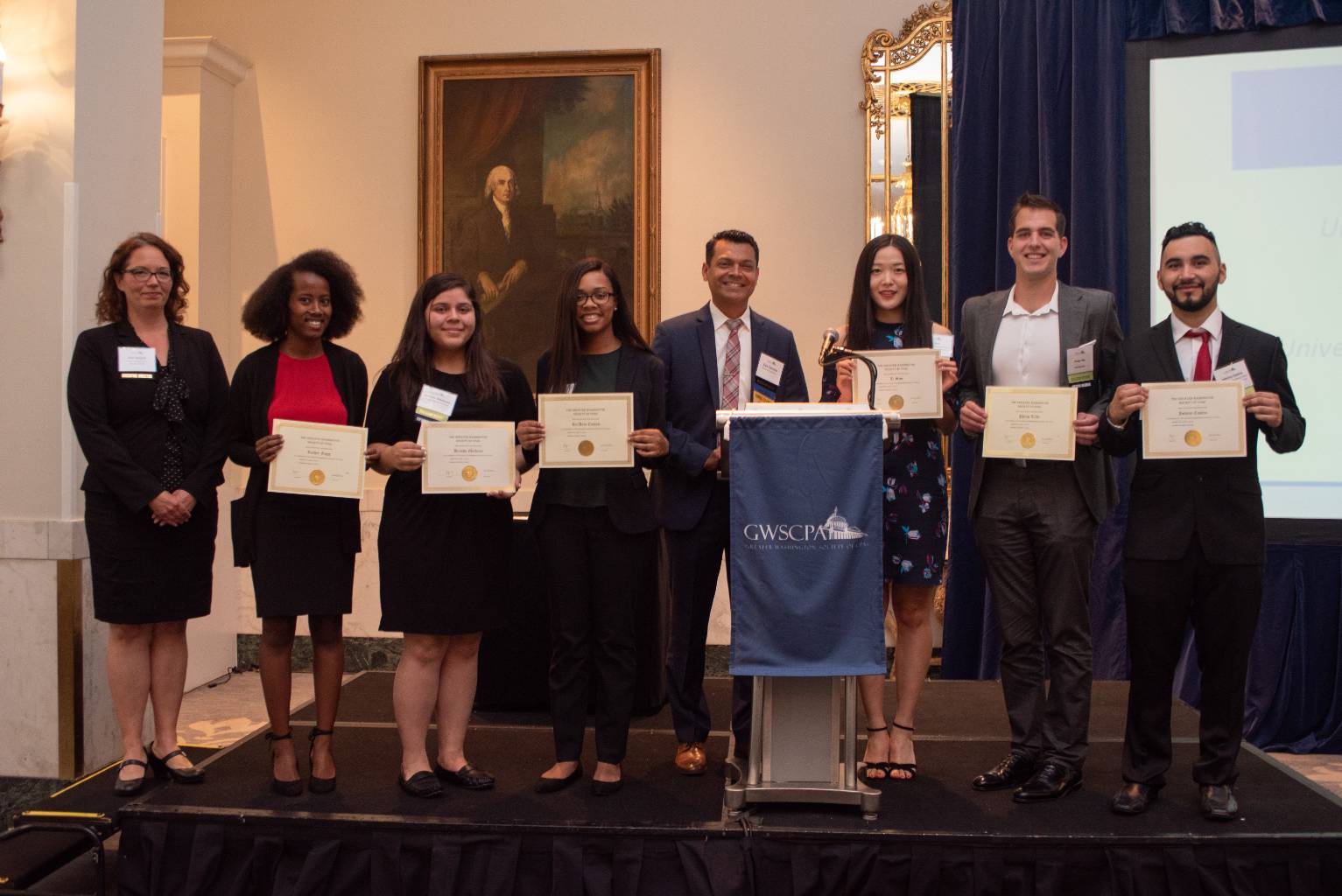 ---
Recent Scholarship Recipients
2022
Gabriel Brusco - University of Maryland
Angelina Campos - George Washington University
Assetou Coulibaly - American University
Darien Ghee - University of Maryland
Jacob Myers - American University
Alina Ponomarenko - George Mason University
Joseph Rogero - American University
Mohamed Sesay - American University
Savannah Woodke - George Washington University
2021
Ruth Clark - American University
Destini Hill - Howard University
Jessica Kreuscher - Catholic University
Yanna Liu - University of the District of Columbia
Tsedal Teshome - American University
Jessica Waite - Catholic University
Ruixuan (Riva) Wang - George Washington University
Marshall Wood - George Mason University
2020
Nicholas Gallo-American University
Maria Horner-Catholic University
Maria Galarza-George Mason University
Tenzin YangChen-George Mason University
Satinder Parmar - American University
Scott Rothschild-George Washington University
Bisola Ignola-University of Maryland
Madison Aubochon-American University
Mathew Brennan-Catholic University
2019
Joan Kim-George Washington University
Oumar Koumbassa-University of the District of Columbia
Jason Javier-American University
Daniel Luna-George Mason University
Deemenya Chukzy-University of Maryland
Jessica Ross-George Mason University
2018
KeiAsia Coates - University of Maryland
Felicity Akenten - George Mason University
Phillip Tilley - George Washington University
Brenda Machuca - George Mason University
Li Sun- University of Maryland
Rachel Fogg - American University
Johnny Castro - University of Maryland
Joshua Woods - Howard University
Enis Nushi - University of DC
2017
Senay Araya - George Mason University
ShirBriya Fletcher - Howard University
Faith Kim - American University
Kevin Lopez - University of the District of Columbia
Gary Mills - University of the District of Columbia
Kira Steven - George Washington University
Sydney Wawrzyniak - Georgetown University
Brianna Williams - Howard University
Kyle Zimmerman - American University
2016
Connor Becker—American University
Rachel Bronstein—George Washington University
Olamide Ewetusa—Howard University
Pierce Gendron—George Washington University
Minowa Melvin—University of the District of Columbia
2015
Christine Kulak—American University
Tiffany Li—Georgetown University
Olamide Ewetusa—Howard University
Gian-Manual Alvarez—American University
2014
Brian Furao—American University
Heidi Friedrich—American University
Ibrahim Elmi—Howard University
Christina Montesi—George Washington University
2013
Adriene Davis—Howard University
Oluwaseun Ogunbamise—George Washington University
Equilla Clark—Howard University
Lorraine Pascual—American University
2012
Joseph Burns— Howard University
Yuliya Gekhman—American University
Mark Dissen— George Washington University
Anna Merkoulova— American University
2011
Christine Curley— Georgetown University
Matthew Casey— George Washington University
Nadia Farooqi— George Washington University
Jeffrey Goldfond— George Washington University
2010
Rachel Bryan— George Washington University
Chris Kearney—Gallaudet University
Emily Stovicek— American University
2009
India Clark—Howard University
Yuriy Kushnir —American University
2008
Kendra Oates— Howard University
Elizabeth Hershman—American University
2007
Wesley Bullock—Howard University
Siobhan Gillan— American University
2006
Peter Drummond —American University
2005
Ashley Kurtz— George Washington University
Andrea Smith— Howard University